The hot weather spell that set over our parts for the last week or two urgently required getting out, away from the city, into the ocean.
And so we did on July Fourth, Independence Day, with the following program in mind: ship watching; swimming in the ocean; and, if the stars align right, some island exploration.
The crew: Lena, Ben, Alex, and Galka, — were as excited as I. Well, not necessarily about islands, but most definitely about getting away from the heat.
But first was ship watching. The subject: USS Constitution, the famous frigate built in 1794–1797, the oldest naval vessel in the world still afloat. These days she is berthed in Charlestown, at the former Charlestown Navy Yard, and serves as a museum ship, usually setting sail only once a year, for a so called turn-around cruise — wooden ships can't stay docked with one side, they should periodically turn around.
As a sailing club launch delivered us to the Pushover, our boat for the day, we saw the Constitution slowly passing by. It was time to raise sails in a hurry and try to catch up.
And it was quite a show, I should tell you! The Constitution was escorted by a fleet of Coast Guard boats, police boats, tugs, and two fireboats, pumping the ocean water high in the air. Beyond the security zone around the frigate, the water was crowded with all kinds of spectator boats: sailboats, motorboats, cruise boats and ferries, — they all came out to see USS Constitution.
She sailed, slowly and with dignity, to Fort Independence on Castle Island, and then turned and fired her cannons saluting the fort.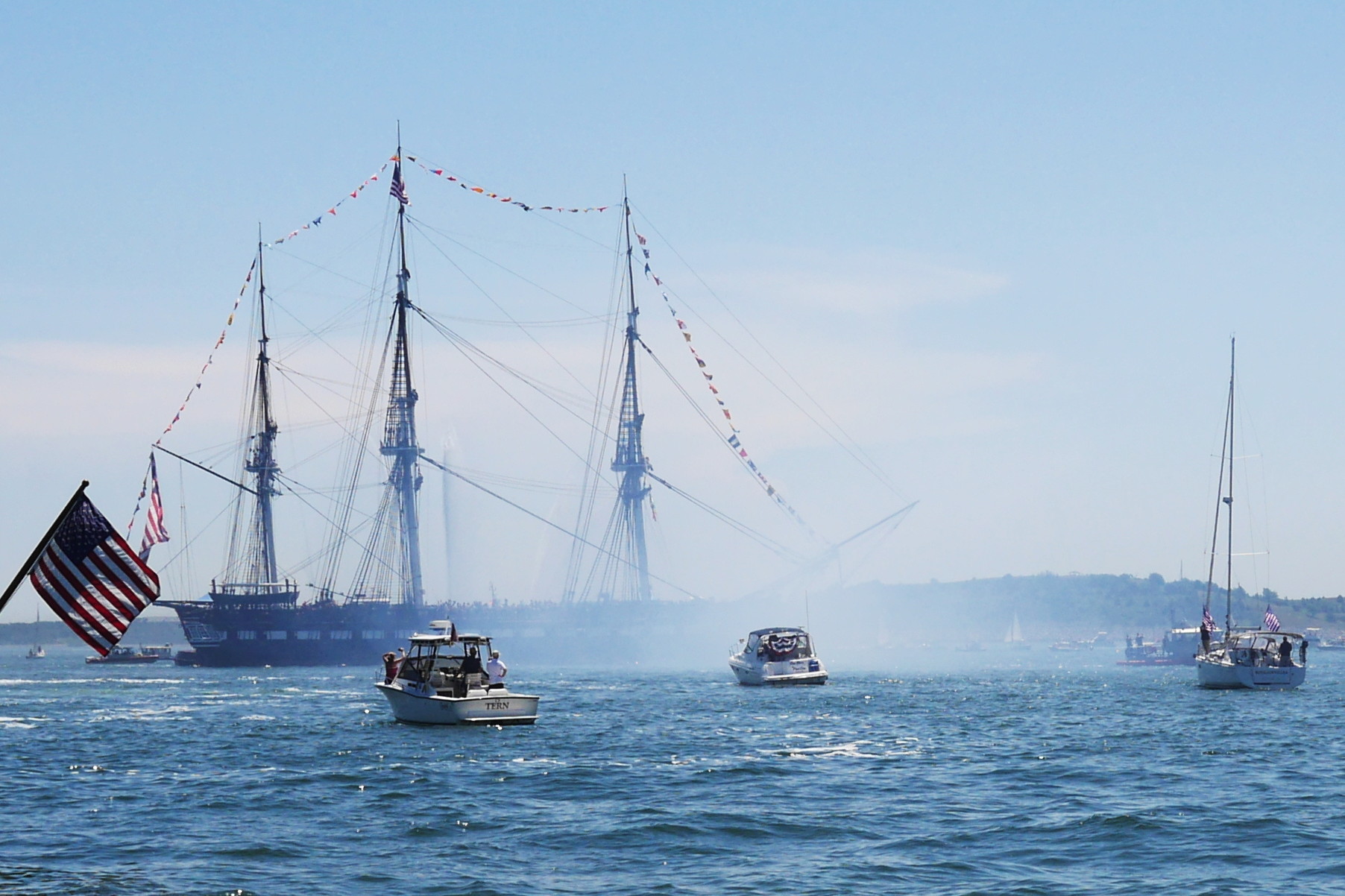 The fort responded with its own cannons. Then she turned back, and we set our course past the fort, further away from the city.
Then there was much swimming off the boat. The Boston Harbor water, usually punishingly cold, this time was refreshingly cool, an — on a hot day like this, with temperatures over 90°F in the city, — a real salvation.
Unfortunately hot lazy days bring no wind, so our sailing options were quite limited, and we agreed to visit a tiny island halfway between Spectacle and Peddocks, the island with an intriguing name: Hangman Island (sometimes spelled Hangman's or Hangmans).
This a first of "micro islands" on my list to explore; on most days a navigation hazard rather than a destination; I have mentioned it as such in my report on Peddocks Island. Today it's a rock outcrop just three feet above water at high tide, barely visible from our dinghy as we had anchored at a safe distance and were rowing towards it: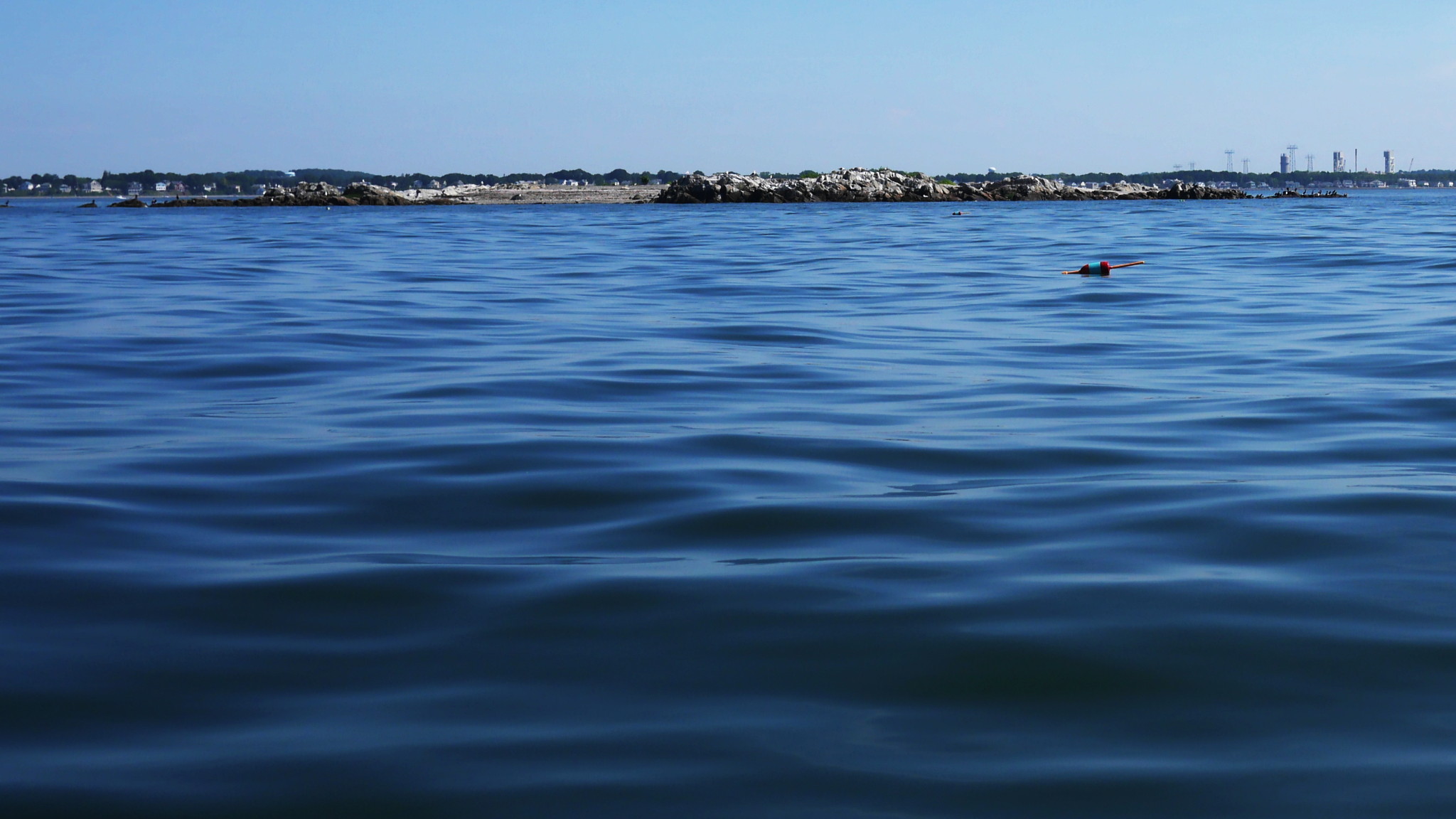 The island consists of steep rocks and rocky beaches, one of them we used to land.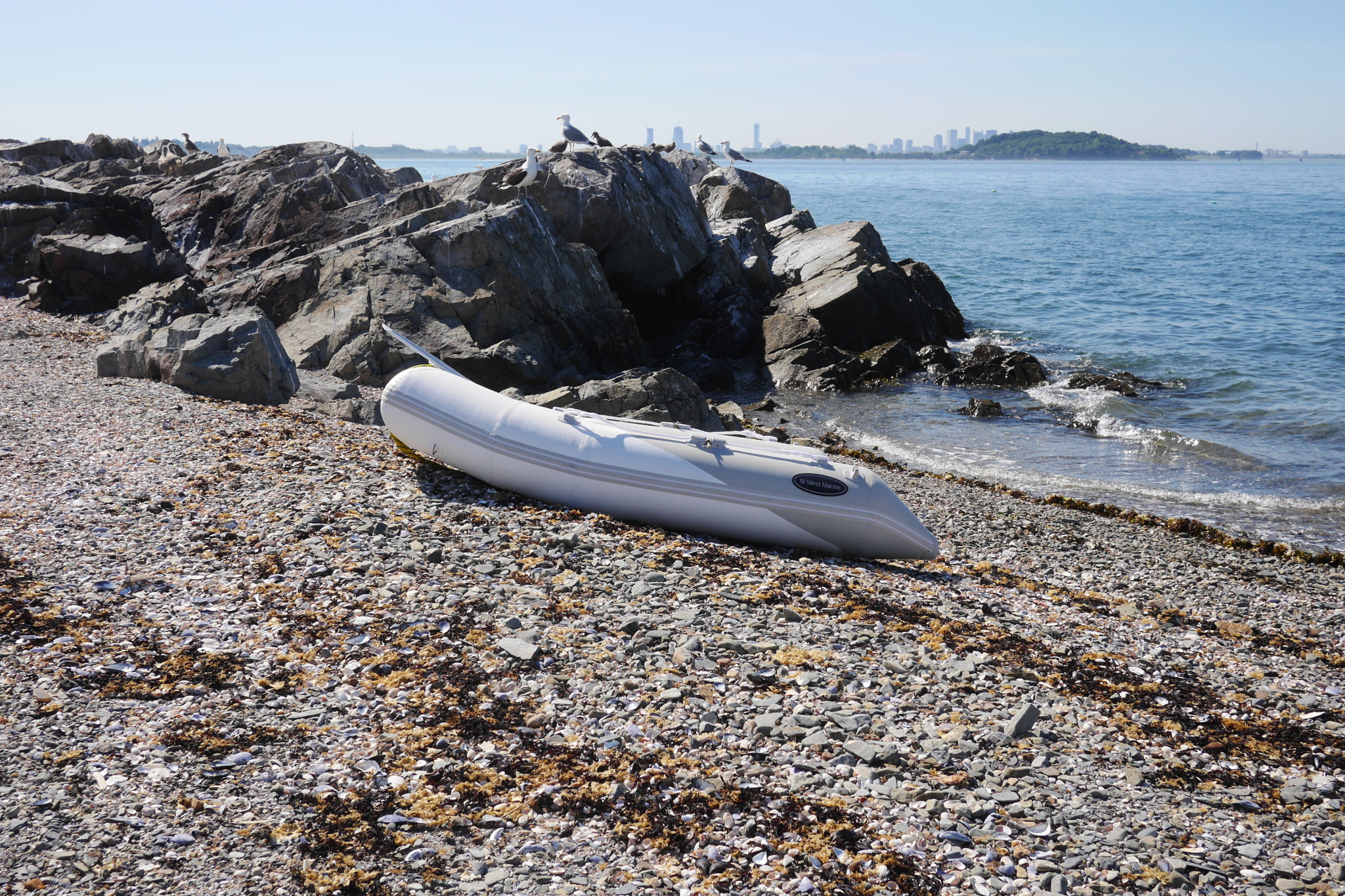 Unlike the larger islands that we explored before, Hangman doesn't have much history associated with it. Even its name is murky. There is a legend about a hermit who lived there and worked (or had worked before that) as a county executioner, but it's not really substantiated.
What we do know is that the island used to be much larger, but many years of quarrying granite and slate in the colonial period diminished it. In the late 1800s and early 1900s a few fishermen lived there in wooden shacks, and were growing "corn, potatoes, and other vegetables". These days, only birds live there, primarily gulls, and they met us with very loud noises.
If you remember the story of our exploration of Rainsford Island, there was a dude there who proclaimed himself a mayor of the island. Fully expecting Hangman Island to be truly empty of visitors and their traces, I jokingly proclaimed myself to be a mayor of Hangman as we landed.
It quickly turned out, though, that there were some human traces there. Not many; so I am going to enumerate them.
First, and most visible: an American flag.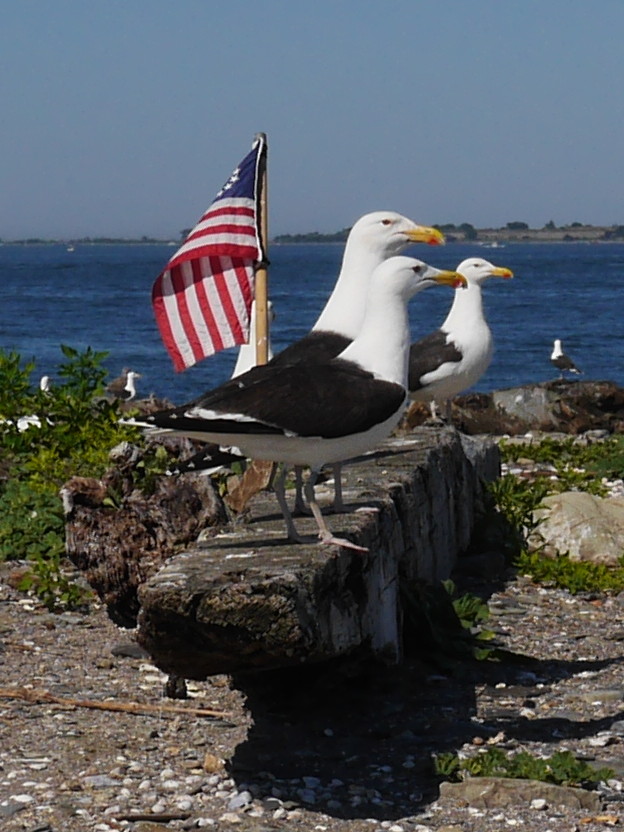 The flag looked like it belonged to a boat before; specifically F/V [fishing vessel] Persistence.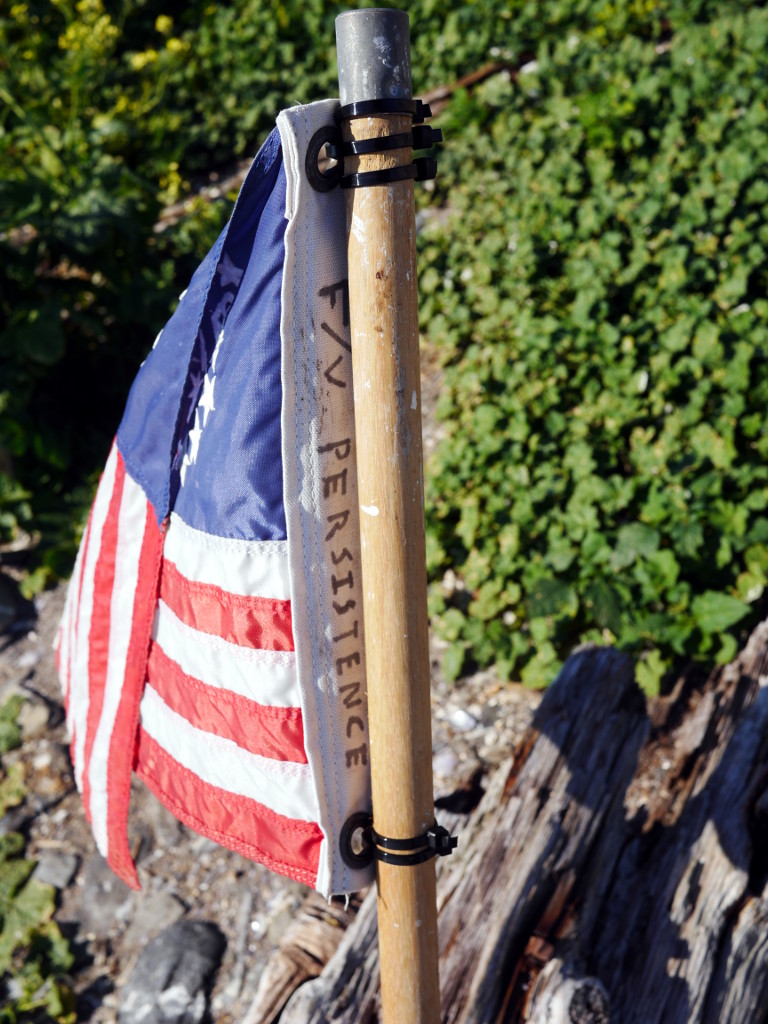 Then there was actually a tombstone.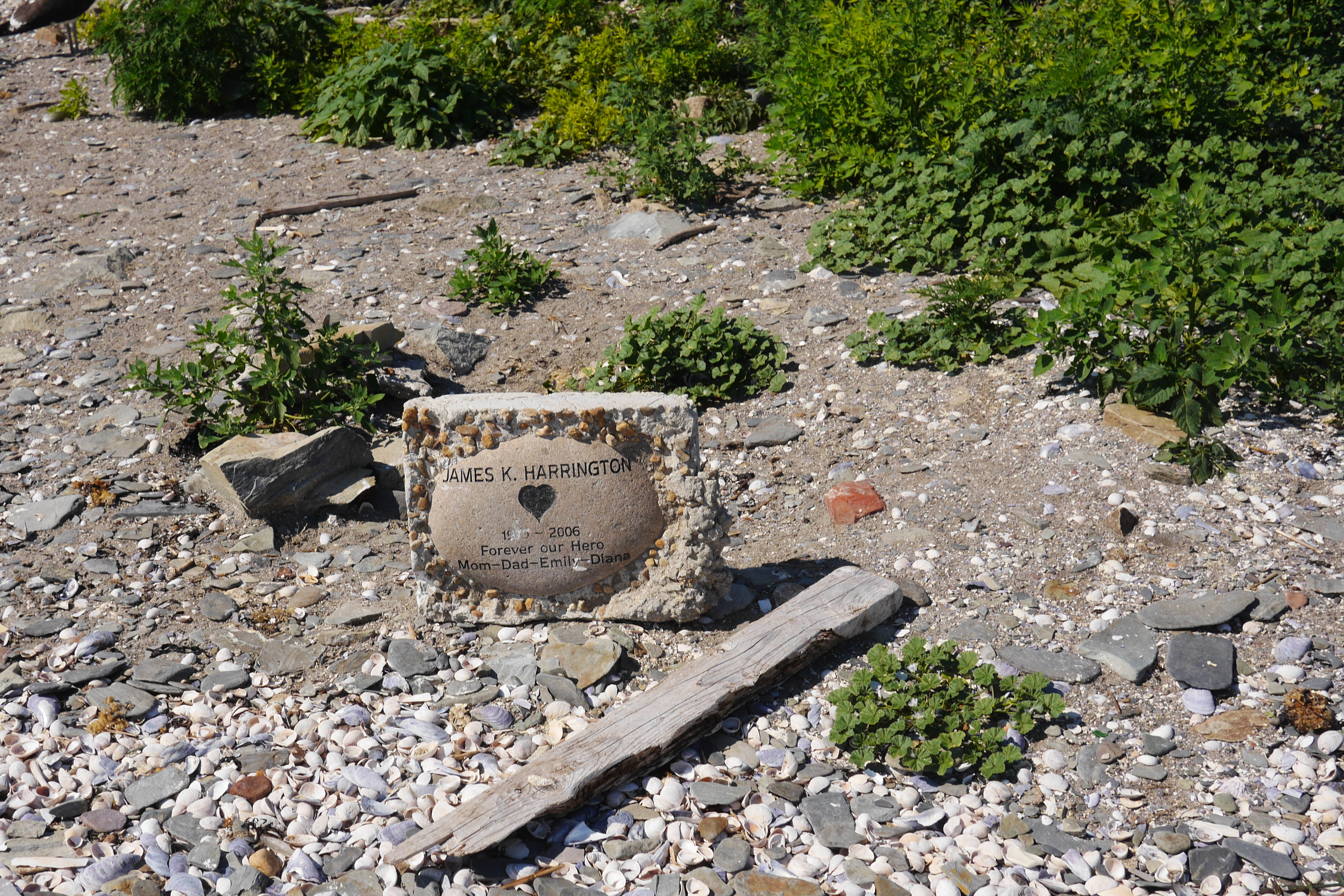 James K. Harrinton
1976[?] – 2006
Forever our Hero
Mom – Dad – Emily – Diana
I couldn't find any information on James Harrington. I wonder, what kind of a man he was, and what happened to him.
Finally, there were a couple of large pieces of wood (and a few smaller ones), including a post stuck into the ground — clearly remnants of some structure there.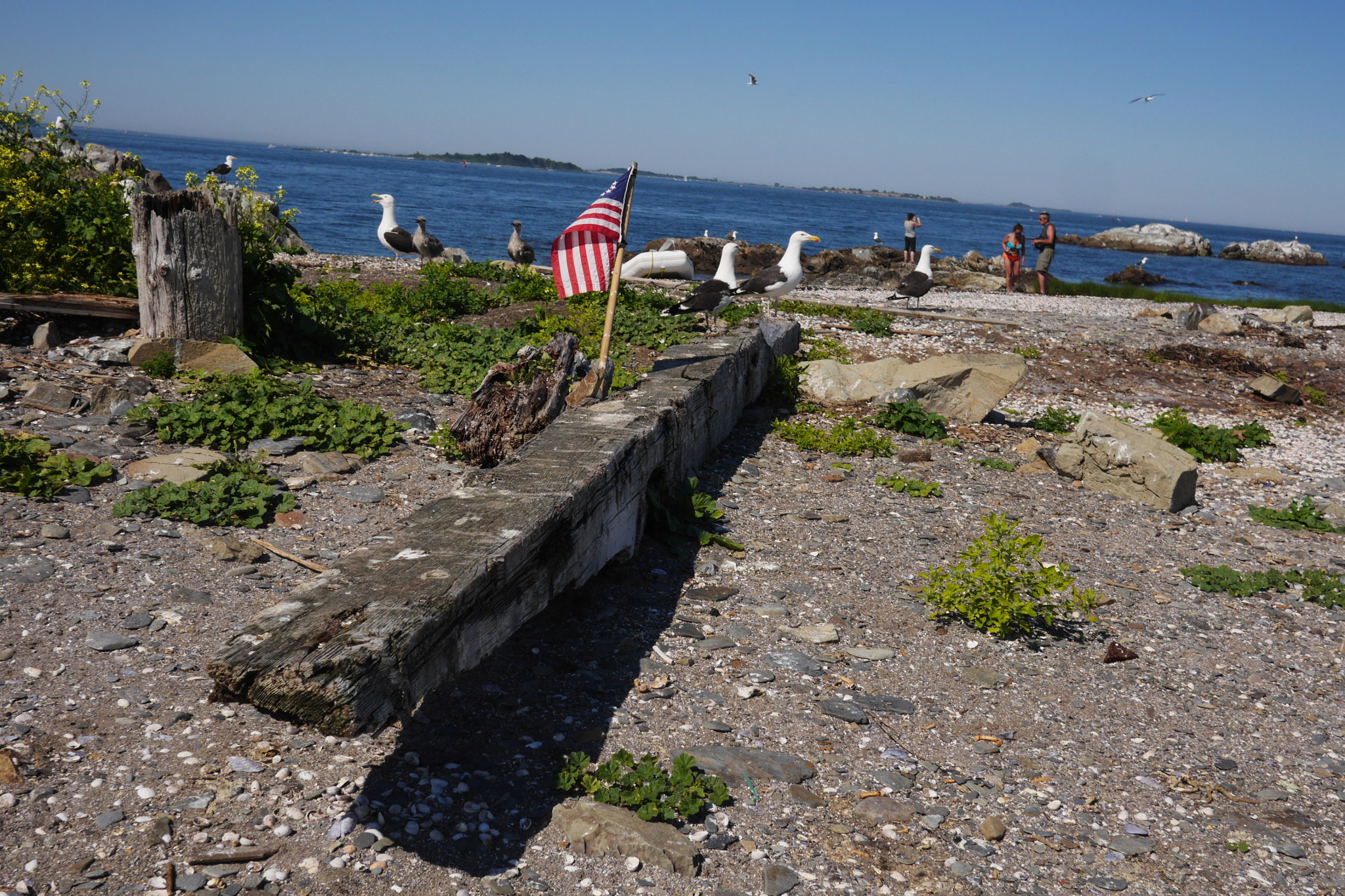 The island is eleven times larger at low tide than at high tide (half an acre vs. 5.5 acres). We were at flood tide (the tide coming in), and some of the rocks were separated by water from the island proper. It should look very different at low tide, so one more visit to Hangman is clearly required.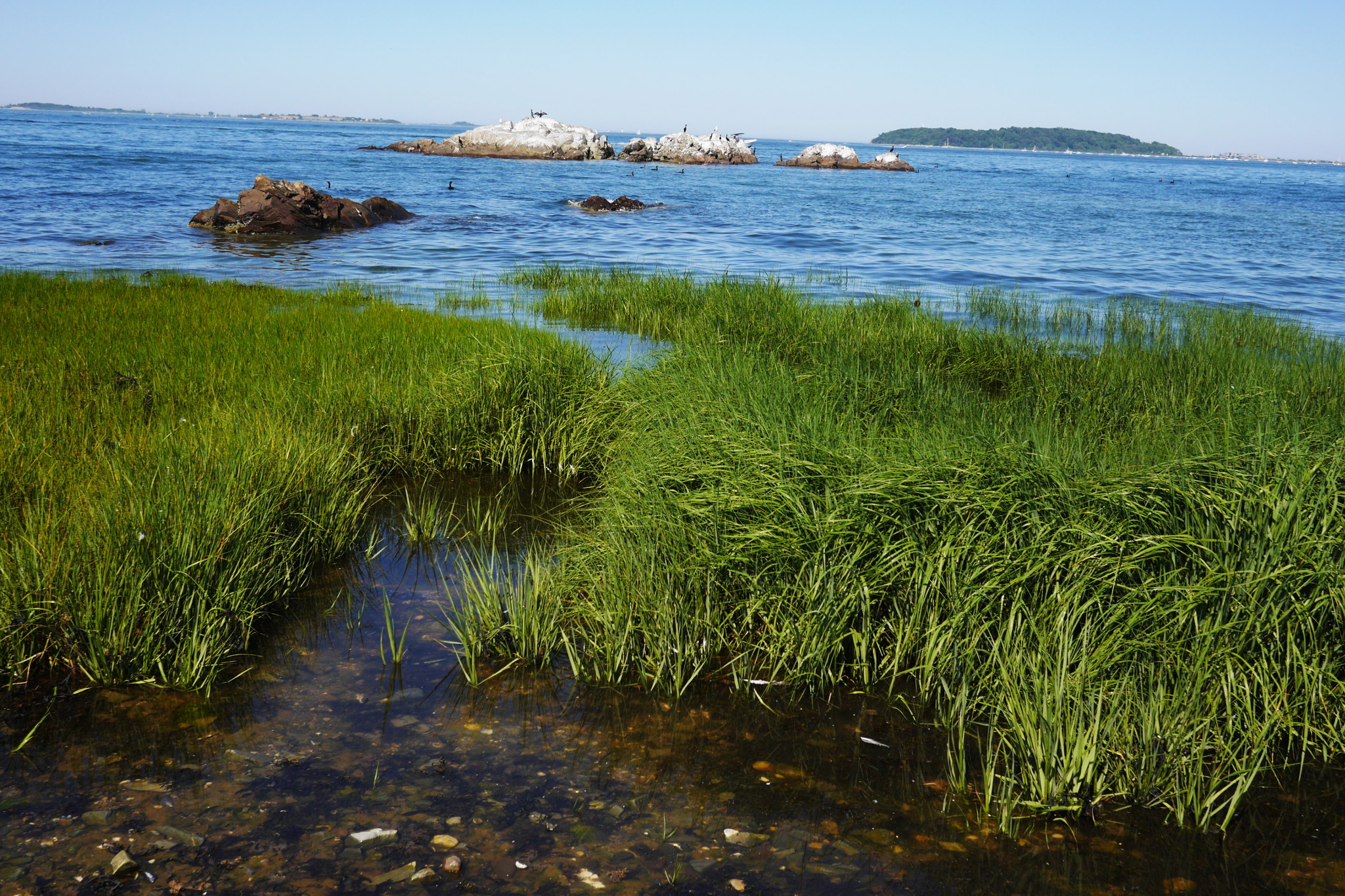 Like most other islands in Boston Harbor, there was a romantic view of the distant and hazy Boston skyline. Many gulls perched themselves next to it, making shooting photos irresistible.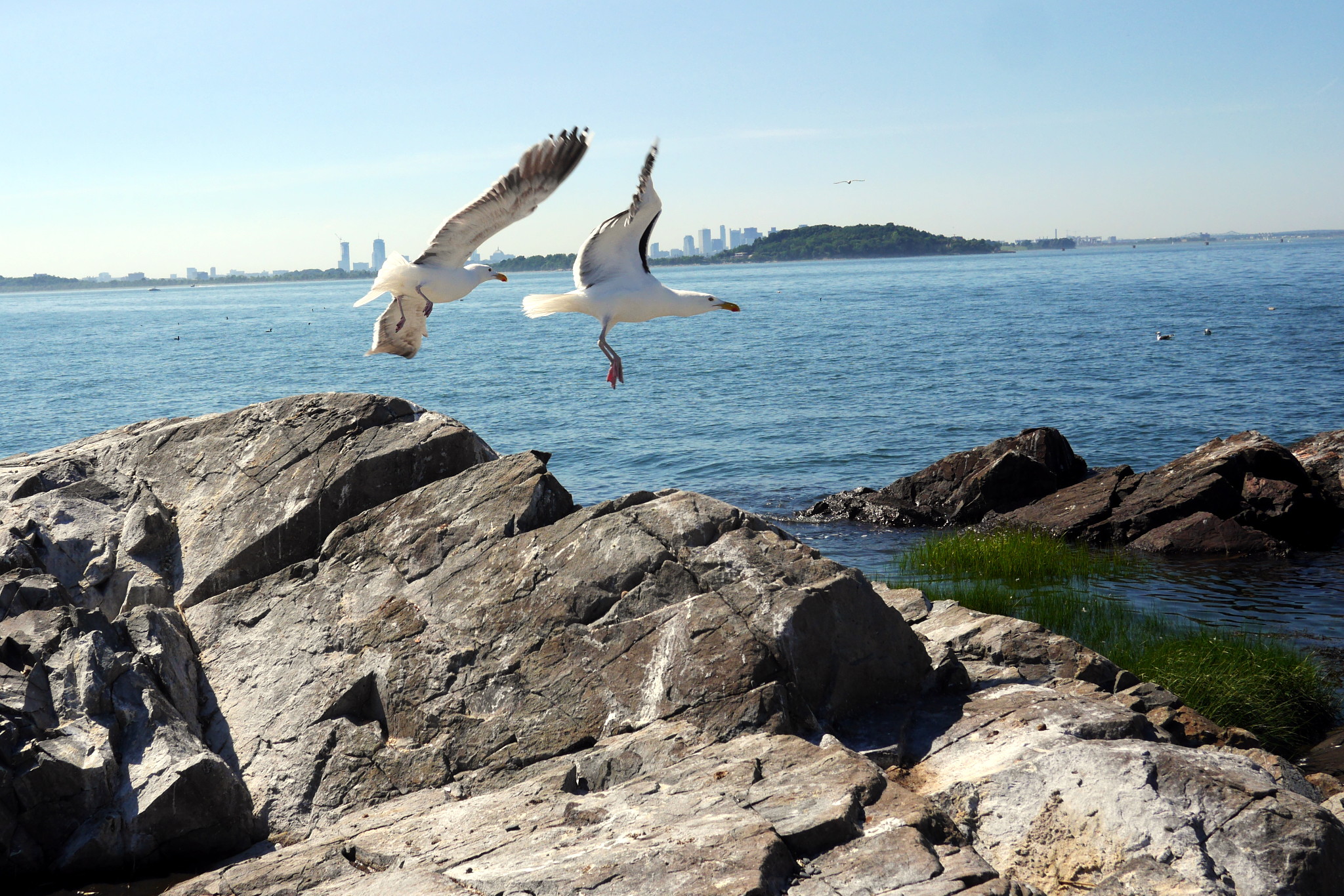 So yes, seagulls. They were the real owners of the island, loud, self-confident, and not particularly caring about humans. There were a number of gull chicks there, and first I thought they were some other species — real ugly ducklings, gray and fury, unlike their white parents. This is yet another island where "access is discouraged", which made it even more important to visit there.
Here is one more short video with some scenes from the island life.
Yes, the island is small and insignificant, but with its rocks, its beaches, its birds, its surprising green vegetation and few human artifacts, it too has its own distinct character. Not at all just a navigational hazard!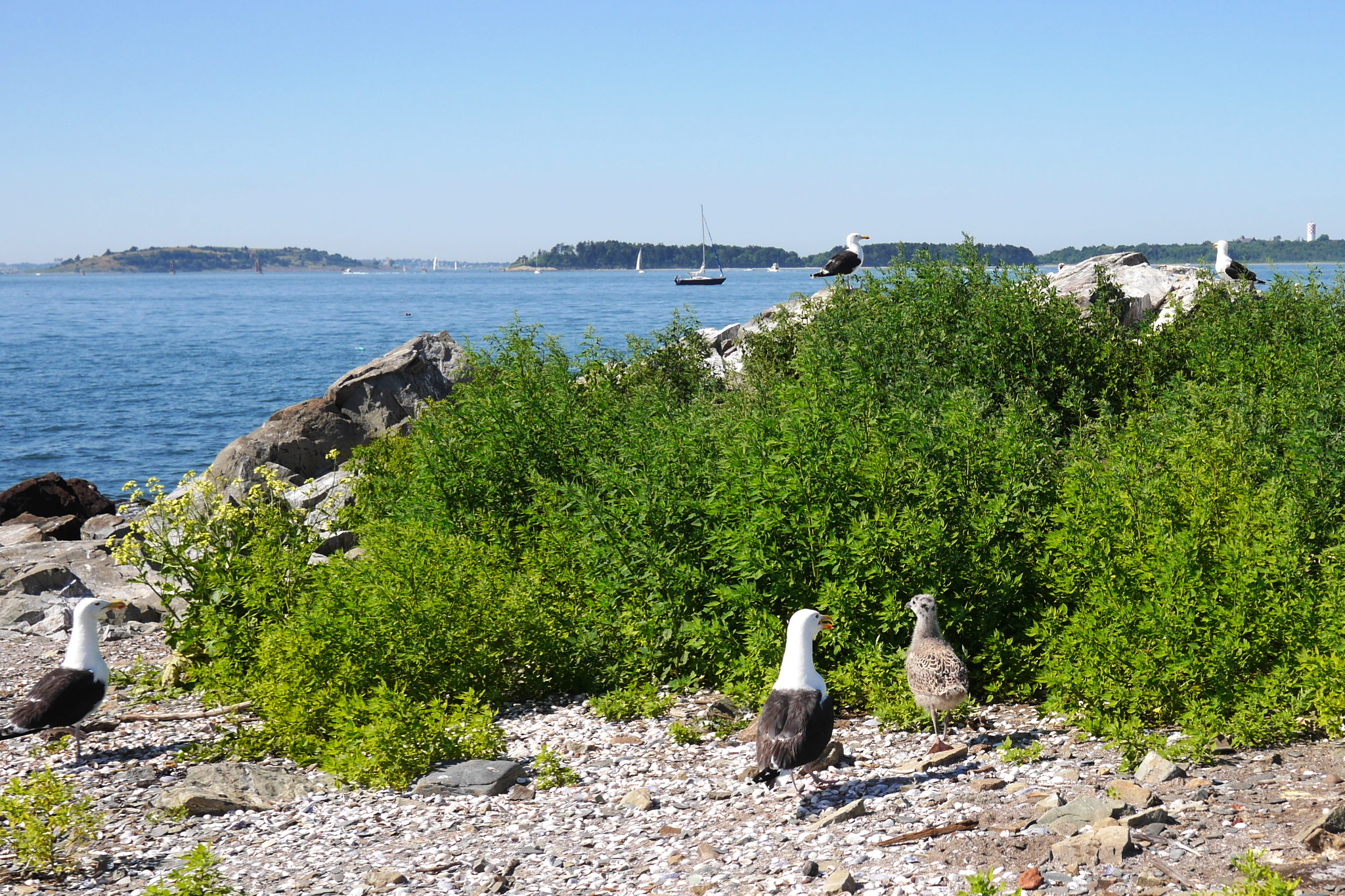 As we had explored the island and were rowing back to the Pushover (seen anchored on the photo above), to more swimming and more sailing, I felt quietly content that one more island was added to my explored world.
One more piece of a jigsaw puzzle got connected to its neighbors.
I usually try to use my own photos when I have them, but I must share this great photo by Ben: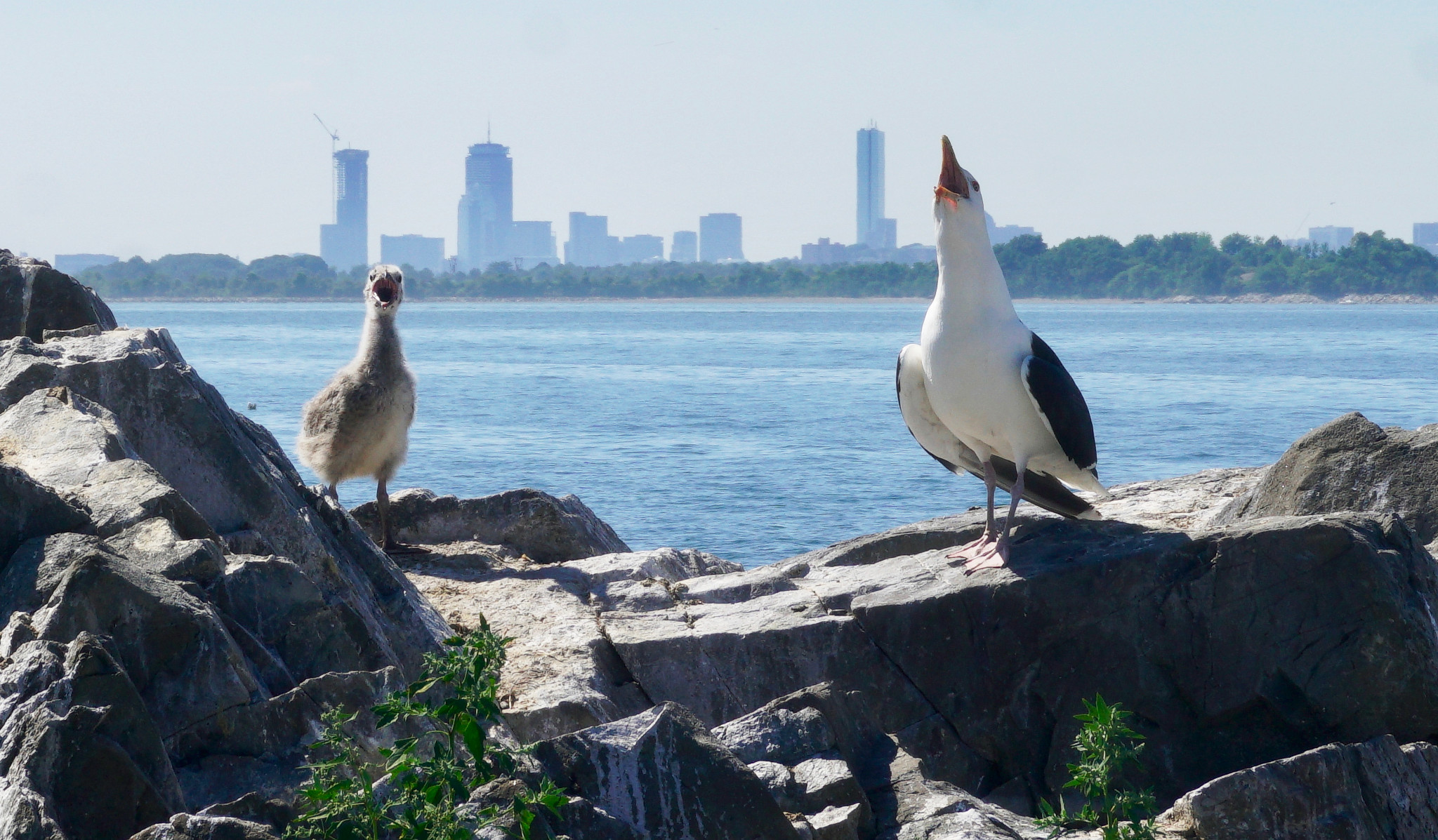 Boston Harbor Beacon, an interesting blog about Boston harbor and vicinity (apparently not active anymore), has a post on Hangman Island with more pictures.
USS Constitution firing her cannons; ocean swimming; lunch on mooring (thank you, Galka!); sailing; Hangman Island exploration — that was a great day. So great that we sailed back home, and didn't stay late to watch the fireworks from water.
Can't have everything, always need to save something for future trips.